We continuously strive to evolve our products to meet your needs and just wanted to let you know that new and more powerful versions of NetInfo and NetGong are scheduled for release in the March 2012. Please read this newsletter for important information on new improvements.
What's New In NetInfo 7.8
Added: Support for geographic location technology.
Added: Support for Google Maps technology.
Improved: Lookup tool that reports IP geolocation data and allows you to easily locate a network address on a Google Map.
IP address location, also known as geolocation, is the process of identifying the geographical location of an IP address or end user location of that IP address. What can IP location be used for? Knowing the location of end users enables online businesses and organizations to localize content, deliver geo-targeted ads, perform site traffic analysis, manage digital rights, ensure regulatory compliance, detect fraud, and more.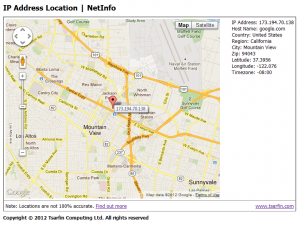 Find NetInfo on Google+ | Find NetInfo on Facebook | Find NetInfo on LinkedIn
What's New In NetGong 7.8
Improved: Event logging that allows you to view the description of each event without any additional mouse click.
Improved: Remote access that allows you an easy access to the monitoring results using any Web browser.
Improved: Monitoring engine that allows you to configure and view the status of monitored devices.
Find NetGong on Google+ | Find NetGong on Facebook | Find NetGong on LinkedIn
Please visit our website regularly for information and updates on version 7.8. If you have questions after reviewing this announcement, please contact as at support@tsarfin.com for assistance.